Maacha Deubner
Soprano Maacha Deubner is a marvellous singer; her clear, perfectly tuned, unaffected tone is ideal for this music.

Classics Today.com, David Vernier
Was für eine Stimme! Maacha Deubners Sopran ist von einer betörenden warmen Weichheit; präzise ihre Intonation, expressiv ihre Crescendi, jedoch von feiner Natürlichkeit. Ihr Gesang gleicht einem reinen ruhigen Atmen im Einklang mit der Musik.

(Die Welt)- Schönberg 2. Streichquartett op. 10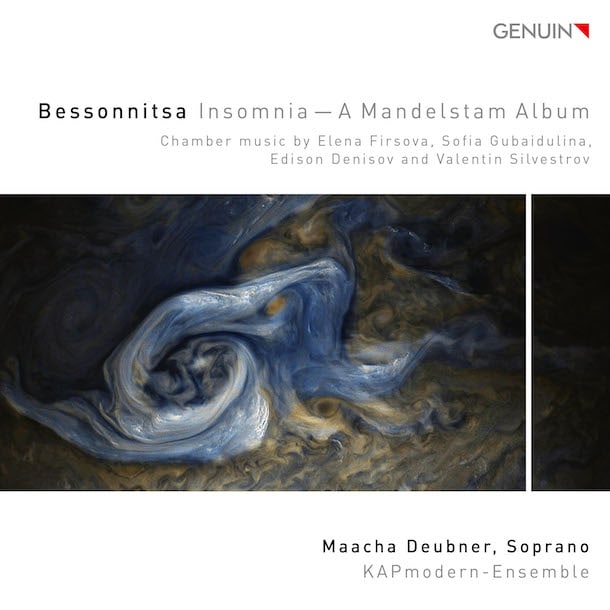 first press reactions:
…Towards the Starlight is a fast, edgy, atonal piece for soprano and string quartet, one of the most original and fascinating pieces on the album. Aside from the lyric line for the singer, the music almost defies description, pushing the strings through their entire range and producing unusual effects. The quartet almost plays like a small string orchestra, so much so that I could easily imagine an arrangement of this piece for such a combination.

THE ART MUSIC LOUNGE, Lynn René Bayley May 4, 2021
Die Sopranistin Maacha Deubner und das KAPmodern-Ensemble hinterlassen mit diesem Album einen bleibenden Eindruck. Eindringlich und verstörend klingen die Texte und die Musik nach. Unbedingt hörenswert!!

DEUTSCHLANDFUNK Kultur, Elisabeth Hahn 9. Juni 2021
Top 10 list of ECM New Series recommendations!
1. Giya Kancheli: Exil (ECM 1535). Kancheli's Exil will forever be the crowning achievement of all for which the New Series stands. Recorded in the defining acoustics of Austria's Sankt Gerold monastery and featuring the incomparable soprano Maacha Deubner, its sounds are of an order beyond the craft of any wordsmith. Hear it, and you may just find that your heart has been holding a space for it since before you were born. (Dec. 22nd, 2014)

http://www.sequenza21.com , Tyran Grillo